January 2023
Microsoft Azure customers worldwide now gain access to Air Pricing to take advantage of the scalability, reliability, and agility of Azure to drive application development and shape business strategies.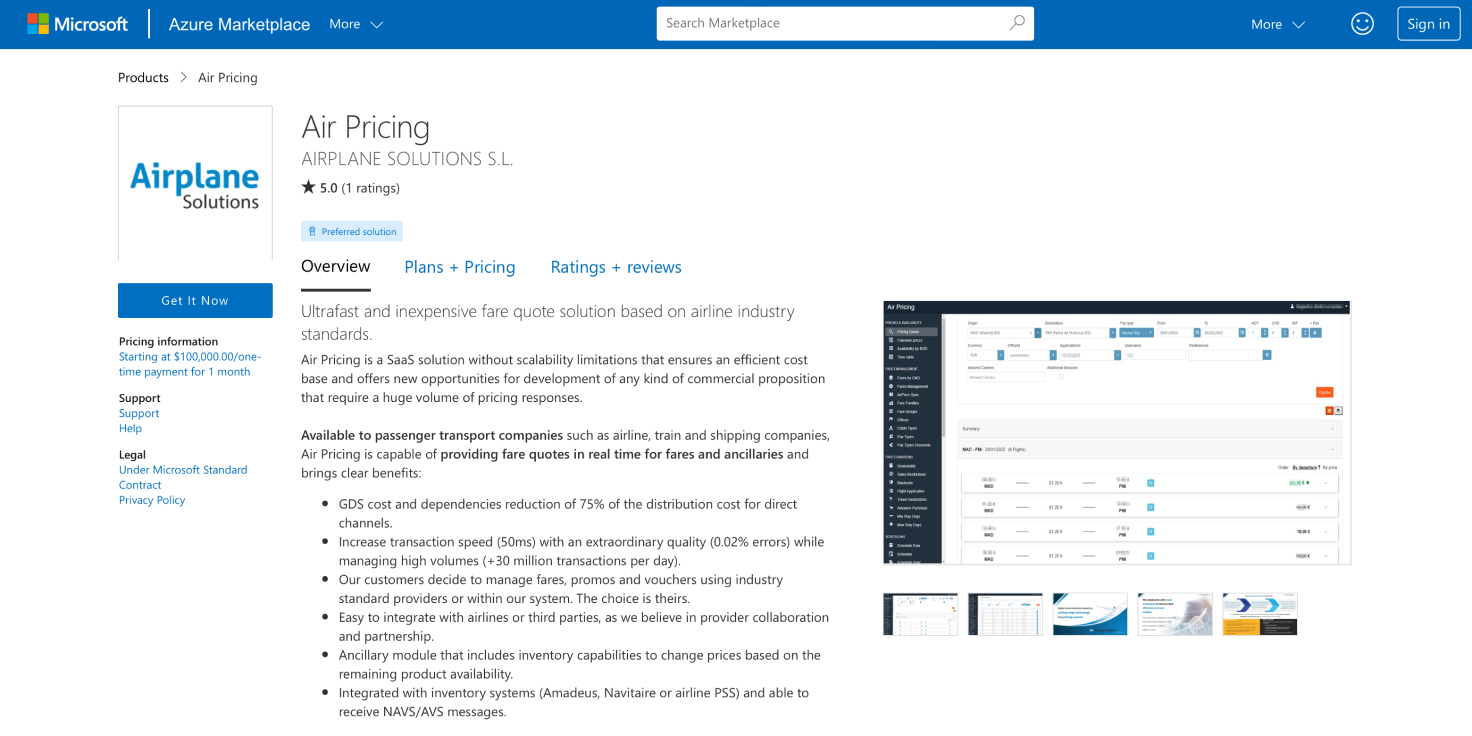 Airplane Solutions today announced the availability of Air Pricing in the Microsoft Azure Marketplace, an online store providing applications and services for use on Azure. Airplane Solutions customers can now take advantage of the scalability, high availability, and security of Azure, with streamlined deployment and management.
Airplane Solutions offer innovative, ready-to-use software modules for the aeronautical sector. Our configurable and flexible digital solutions use cutting-edge cloud technology to help airlines with pricing, scheduling, and calendaring. Pricing is our primary business focus, but we have developed additional functionality and created a multi-solution platform based on the needs and requirements of our customers. Our goal is to empower airlines so they can reduce distribution costs while improving the customer journey.
Air Pricing is our Software as a Service (SaaS) solution that can scale easily while delivering ultrafast and inexpensive fare quotes based on airline industry standards. It provides an efficient cost base and offers new opportunities for developing different commercial propositions that require a large volume of pricing responses. Air Pricing is capable of providing accurate fare quotes in real time for fares and ancillaries.
Other benefits of Air Pricing are:
GDS cost and dependencies reduction of 75 percent of the distribution cost for direct channels.
Increase transaction speed (50ms) with astonishing accuracy (0.02 percent errors) while managing high volumes (+30 million transactions per day).
Ancillary module includes inventory capabilities to change prices based on the remaining product availability.
Integrated with inventory systems (Amadeus, Navitaire or airline PSS) and able to receive NAVS/AVS messages.
Air Pricing's simple and intuitive interface bypasses complex technical integrations and the actionable and effective go-to-market strategy enables business and technical teams to quickly implement it.
"Listing our Air Pricing solution on the Azure Marketplace and using Microsoft cloud technology allow us to grow effortlessly and deliver an easy-to-implement software platform that saves time and costs for our customers," said Esteve Vilella, CEO of Airplane Solutions.
Jake Zborowski, General Manager, Microsoft Azure Platform at Microsoft Corp. said, "We're pleased to welcome Airplane Solutions to the Microsoft Azure Marketplace, which gives our partners great exposure to cloud customers around the globe. Azure Marketplace offers world-class quality experiences from global trusted partners with solutions tested to work seamlessly with Azure."
The Azure Marketplace is an online market for buying and selling cloud solutions certified to run on Azure. The Azure Marketplace helps connect companies seeking innovative, cloud-based solutions with partners who have developed solutions that are ready to use.
Learn more about Air Pricing on the Azure Marketplace.
About Airplane Solutions
Airplane Solutions is a tech lab company delivering digital travel solutions based on cutting-edge technology for the aeronautical sector. We build custom software solutions and collaborate with travel companies to improve their efficiency and cost margins. What makes us different is how we deliver our solutions. We strive to create solutions that empower our clients and allows us to start a collaborative journey with them as trusted partners.